Celebrate National DNA Day!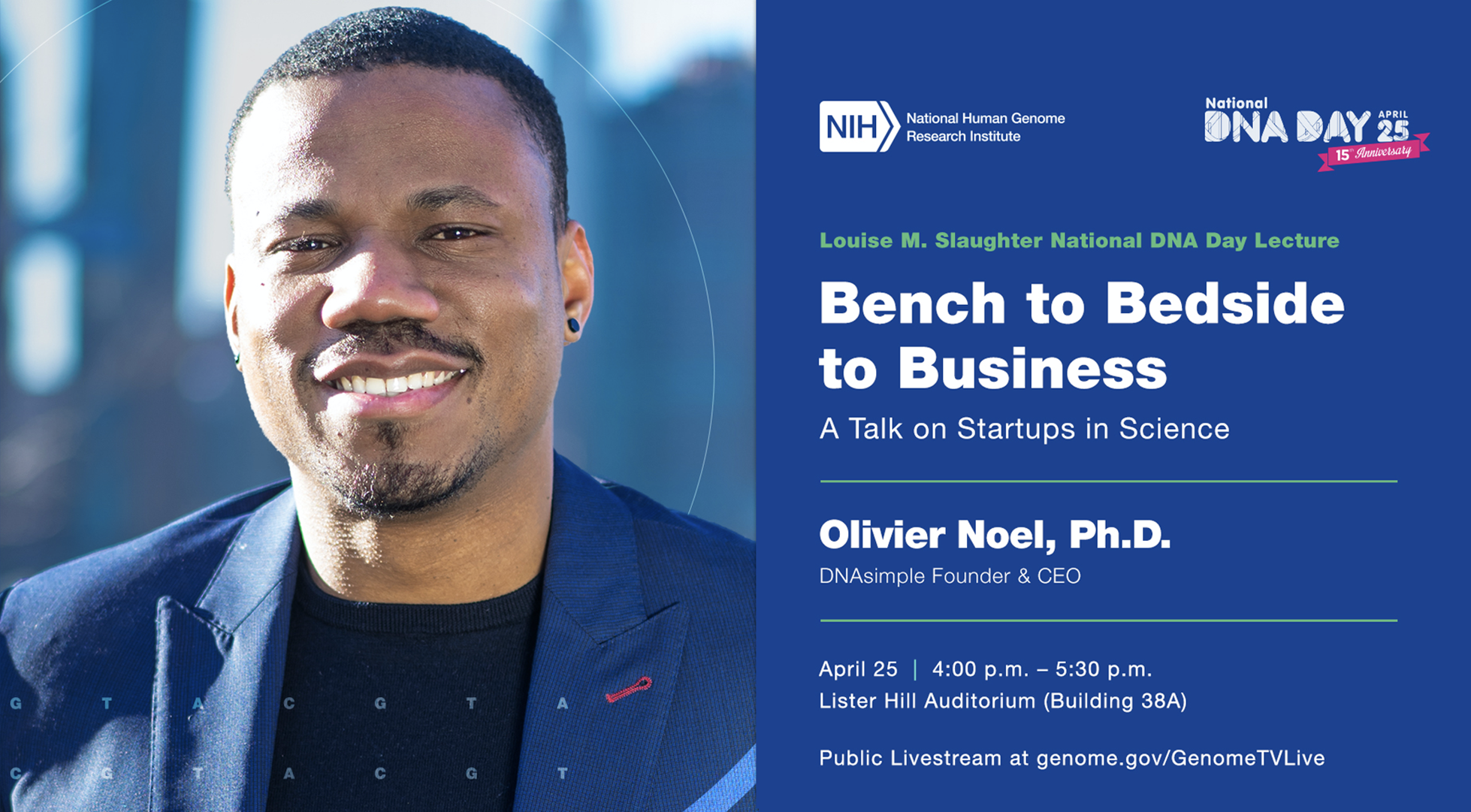 The National Human Genome Research Institute (NHGRI) will launch the National DNA Day Reddit "Ask Me Anything" (AMA) Series on Friday, April 20, 2018, continuing each week day until Friday, April 27, 2018, from 1:00–3:00 pm EST.
Don't miss the special event, the National DNA Day Lecture, given this year by Olivier Noel, M.D., Ph.D (details below).
To learn more, visit https://www.genome.gov/20519689/celebrate-dna-day-with-nhgri/
---
SPECIAL EVENT: LOUISE M. SLAUGHTER NATIONAL DNA DAY LECTURE
Wednesday, April 25, 4:00–5:30 pm EST
---
REDDIT AMA SERIES
Friday, April 20, 2:00–3:00 pm EST: Reddit AMA
Francis Collins, M.D., Ph.D. — The Future of Precision Medicine
Monday, April 23, 1:00–3:00 pm EST: Reddit AMA
Representatives from Personal Genetics Companies — Personal Genetics and You
Tuesday, April 24, 1:00–3:00 pm EST: Reddit AMA
Jesus Maldonado, Ph.D. and Nancy Rotzel McInerney, B.S., Smithsonian Conservation Biology Institute's Center for Conservation Genomics — Ancient DNA and Conservation Genomics
Wednesday, April 25, 1:00–3:00 pm EST: Reddit AMA
National Society of Genetic Counselors — Ask a Genetic Counselor
Thursday, April 26, 1:00–3:00 pm EST: Reddit AMA
Dr. Aviv Regev, Human Cell Atlas  Organizing Committee — The Human Cell Atlas
Friday, April 27, 1:00–3:00 pm EST: Reddit AMA
The Rob Dunn Lab, North Carolina State University — The Wonderful World of Microbes
---