The SEPA Resource Library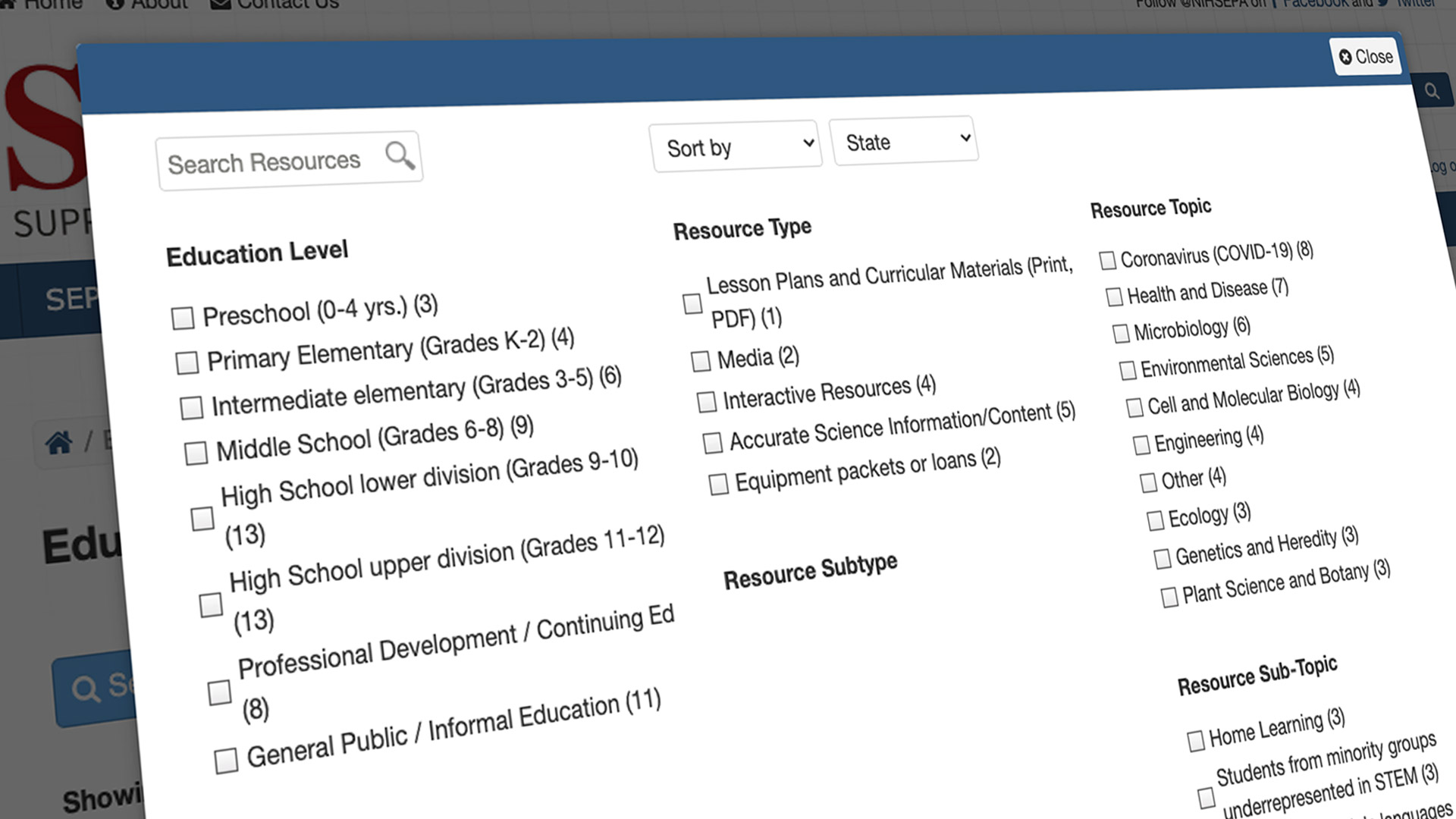 The SEPA Resource Library provides easy access to teaching resources developed through projects funded by the National Institutes of Health Science Education Partnership Award (SEPA) program. It was initiated to help support educators and parents involved in distance-learning during the 2020 COVID-19 pandemic by providing teaching resources that 1) could be used online and/or at home; 2) provide accurate information on COVID-19; and/or 3) provide support for effective online and at-home teaching and learning. Most materials in the library were developed as part of a SEPA-funded project but additional resources, especially from federal agencies, are included as well.
Who should use the library?
Parents looking for science teaching materials and accurate science content to use with their children (preschool through high school). Also, resources on best practices in at-home teaching and learning.
Teachers looking for curricular materials, online simulations and games, accurate science content, and tips for online teaching.
Students (elementary through high school) looking for online simulations and games as well as links to accurate science content and tips for online learning.
General public looking for links to accurate science content and online science learning resources.
What is SEPA?
The Science Education Partnership Award program provides federal funding through the National Institutes of Health to colleges, universities, museums, community organizations, professional associations, and other groups. SEPA projects aim to improve understanding of health and biomedical research by increasing the scientific literacy of children, young adults, and the public at large. By exposing young learners to the excitement and value of scientific investigation, these projects and resources also contribute to the development of a diverse pipeline of future scientists and clinical researchers. For more information on the SEPA funding program, see https://www.nigms.nih.gov/capacity-building/division-for-research-capacity-building/science-education-partnership-awards-(sepa).
The SEPA Library is supported by funding from the Science Education Partnership Awards (SEPA) program of the National Institutes of Health, which also supports management of the site through an Administrative Supplement (SEPA Award R25 OD021865) to Baylor College of Medicine. The website content is solely the responsibility of the authors and does not necessarily represent the official views of the National Institutes of Health.