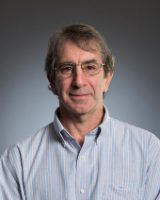 Department:
Department of Bioengineering
---
Eric H. Chudler, Ph.D., is a neuroscientist at the University of Washington and the executive director of the Center for Sensorimotor Neural Engineering in Seattle. In addition to conducting research related to how the brain processes information from the senses, he has worked with fellow scientists and teachers to create materials to help the public understand how the brain works.
Chudler has conducted workshops and given presentations to a variety of audiences including precollege students, university students, teachers, judges, and Tibetan Buddhist monks and nuns. He has also published several books for general audiences, including Brain Bytes: Quick Answers to Quirky Questions About the Brain (W.W. Norton & Co., 2017) and The Little Book of Neuroscience Haiku (W.W. Norton & Co., 2013).
Chudler graduated from the University of California, Los Angeles (UCLA) in 1980 with a B.S. degree in Psychobiology and attended the University of Washington, where he received  an M.S. degree and a Ph.D. degree from the Department of Psychology. His post-doctoral work was performed at the National Institutes of Health.
Associated SEPA Project(s)