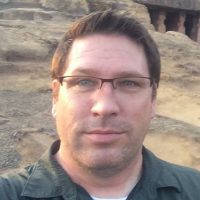 Department:
Biochemistry Molecular Biology
Current SEPA Project
---
My work with Mayo Clinic and InSciEd Out focuses on my two goals as an academic: 1) Scientific research that directly affects the health of the community around me; and 2) A method by which that research creates a pipeline for young scientists to add their voice to the fray. While at the University of Missouri, I worked with Pat Friedrichsen to prepare a course in stem cell biology (my scientific field) that reflected the diversity of disciplines and culture of the community around us. This course, Stem Cells and Society, brought together the voices of religion, law, philosophy, and science. The teaching strategies were drawn specifically from fellowships in two professional development programs, Difficult Dialogues and Debating Science. In both, voices from the humanities were drawn to inform the sciences through specific styles of discourse. In short, allowing students to define their own sense of place (validating their personal philosophy) created a richer learning environment where students became better scientists. Now at Mayo Clinic, I am applying this work in Integrated Science Education Outreach (InSciEd Out). InSciEd Out brings the authentic and visceral nature of clinical scientific research from the Mayo Clinic to students of our partner schools. It incorporates the knowledge of cutting-edge science and education research. It also allows the context (sense of place) to be constructed by the students, honoring their diversity. In this sense, this work is truly reciprocal. Relationships formed through education become the relationships in our community-engaged research. The populations marginalized in both education and clinical practice are drawn in as partners to the needs of their own community. The methods used by InSciEd Out with regard to diversity are drawn from collaboration with the Science Museum of Minnesota, and specifically their Nexus program. Nexus is a professional development program designed to bring cultural awareness to K-12 curriculum. Within InSciEd Out, the value of diversity and the power of dialogue meet the cutting-edge of science. We are poised to make a difference not only in science education, but also in the societal challenges that science struggles to understand and aid. We believe that science education reform and the battle to end addiction, infectious disease, obesity, and cancer center around the same communities. Students, parents, teachers, education researchers, and scientists are working together in InSciEd Out for a healthier community.
Associated SEPA Project(s)