Department:
Education and Learning
Position(s):
Genomics Education Specialist
Current SEPA Project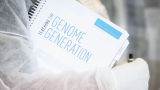 ---
Kelly received her B.S. in Biochemistry from Dickinson College, and Ph.D. in Molecular Biology from Princeton University. With experience in teaching and outreach during her graduate work, she joined the Courses and Conferences team in March 2015. She focuses on course design and innovation, but additionally manages the training laboratory and serves as faculty for some courses.
Associated SEPA Project(s)
Associated SEPA Publication(s)