NIH SciEd 2020: Annual Conference for NIH Science Education Projects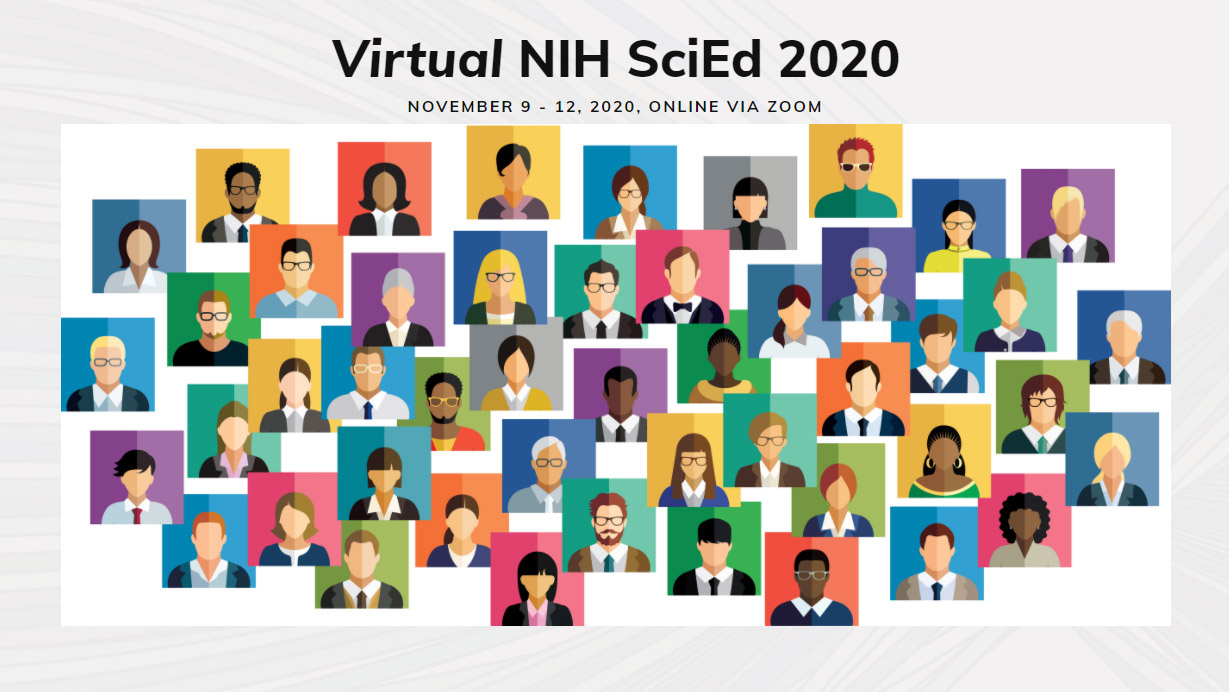 ---
The NIH SciEd 2020 Conference, Held online via Zoom, the 2020 NIH SciEd Virtual Mini-Conference was the ninth NIH-wide conference for science education projects funded by the National Institutes of Health and the 29th annual conference for the NIGMS Science Education Partnership Award program. The in-person 2020 conference had been scheduled for April 26-29 but was cancelled due to the pandemic. Survey data from the SciEd community indicated that the majority of respondents desired a short Fall 2020 SciEd virtual conference that focused around advancing project goals during the pandemic. The projects represented at the conference were primarily funded by the NIGMS Science Education Partnership Award (SEPA), and the NCI Youth Enjoy Science Research Education (YES) programs. A total of 358 individuals registered for the conference and 231 attended at least one conference session. Conference participants included 60 project PIs, 24 Co-PIs, 28 project managers, 37 project staff members, 8 internal evaluators, 21 external evaluators, 10 graduate students, 5 post-doctoral fellows, 1 teacher, 24 other individuals, and 13 NIH staff (NIGMS, NCI, NINDS, NHGRI and CIT).
The NIH SciEd 2020 Conference website is now "live" at http://www.scied.info/
Links to specific information you may be seeking on the website are provided below.
Conference Session
Day/time
Town Hall: NIH SEPA Program Updates
L. Tony Beck, PhD, Program Officer, Science Education Partnership Award (SEPA), STEM Interactive Digital Media (SBIR/STTRI)
Monday, Nov. 9
Informal Science Education
(e.g., Exhibits, programs for the public and families, and other informal science learning opportunities)
Facilitators:
Jeanne Ting Chowning, PhD, Fred Hutchison Cancer Research Center
Louisa Stark, PhD, University of Utah
Monday, Nov. 9
Research and Evaluation (e.g., Program research and evaluation designs, methods and instruments)
Facilitators:
Kristin Bass, PhD, Rockman et al
Dina Drits-Esser, PhD, University of Utah
Tuesday, Nov. 10
2:00 – 3:00 ET
Teacher Professional Development (e.g., Professional learning programs for teachers, in school or outside-of-school)
Facilitators:
Marnie Gelbart, PhD, Harvard Medical School
Virginia Stage, PhD, RDN, East Carolina University
Wednesday, Nov. 11
3:30 – 4:30 ET
Research Experiences for Students and Teachers (e.g., Research experiences designed for teachers and/or students, during the school year or summer)
Facilitators:
Nathan Vanderford, PhD, MBA, University of Kentucky
Louisa Stark, PhD, University of Utah
Thursday, Nov. 12
Programs for Students (e.g., In-school and outside-of-school programs, during the school year and summer)
Facilitators:
Carla Romney, DSc, MBA, Boston University School of Medicine
Michael Wyss, PhD, University of Alabama at Birmingham
Thursday, Nov. 12
3:30 – 4:30 ET