PowerPlay: Kids Measuring Their Bodies' Responses to Physical Challenges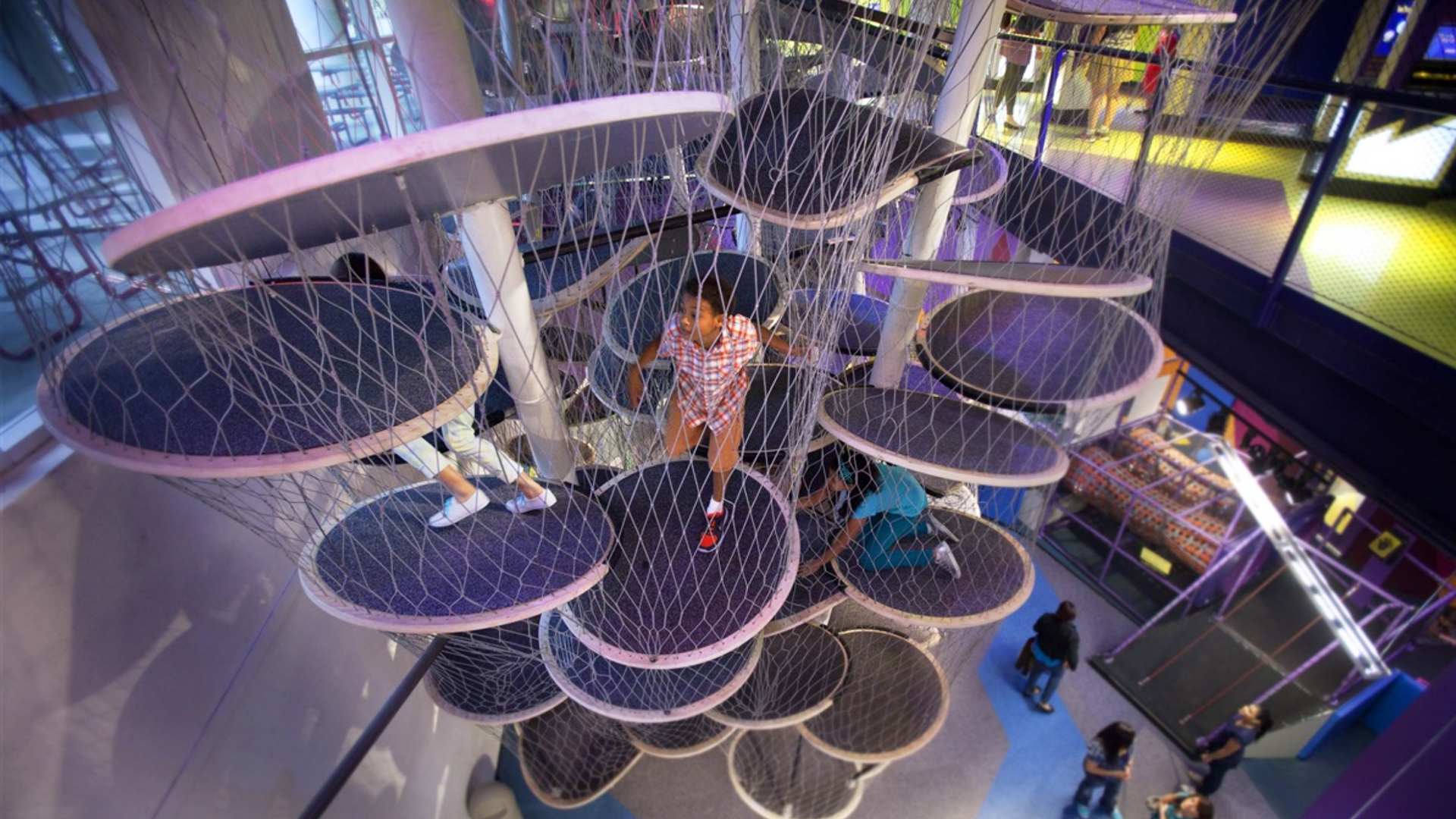 Project Website(s)
Project Description

The PowerPlay! Exhibit Components

Push Your Limits
Discover how your body reacts to a variety of physical challenges in PowerPlay!

This monumental, three-story installation lets you leap up and down different levels as you discover new ways to get active! Take it to the next level tracking your heart rate and strength, rating your experience, and comparing your performance like a real fitness athlete!

Are You Up for the Challenge?

Climb the 40-foot Power Tower.
Get into the groove and get your heart pumpin' at Dance Mania.
Test your strength at Grip It.
Send a superhero flying at Blast Off.
Complete a special Power Mission.
Track your data in an Activity Log and print it out before you go.
Keep up with your progress over time using the PowerPlayers. (You must register and login to track your data.)

Power Science Lab for Kids Health
Explore the science behind your health and activities in the Power Science Lab, located in PowerPlay! Play the role of scientist as you participate in interactive experiments that focus on biology, the human body and nutrition. Pick up your lab coat, goggles and nitrile gloves as you step into the Power Science Lab to use everyday lab equipment such as microscopes, petri dishes, test tubes and more! Check out interactive experiments happening this month!

Abstract

In response to nationally identified needs for new educational approaches related to children's fitness and diet, the Children's Museum of Houston (CMH) and Baylor College of Medicine (Baylor) propose to create an exhibit entitled "PowerPlay: Kids Measuring Their Bodies' Responses to Physical Challenges." The proposed Phase I/II project will engage children and their families in inquiry-based investigations that promote understanding, positive attitudes, and healthy behaviors related to physical activity, diet, and the effects of exercise on the human body.

Specific Aims are to:

Engage children and families in physical challenges and related activities that prompt them to increase their physical activity;
Enable children and families to plan and track their own physical activity and nutrition; and
Facilitate children's and families' understanding of research and the research process.

PowerPlay will make available the following products and services:

An interactive long-term exhibit at CMH (4500 square feet) that engages visitors in a set of interconnected novel and rigorous full-body physical challenges integrated into a complex multi-story structure;
Planning and tracking devices, and strategies (PowerPlanners) for children and family members to record their bodies' responses to a host of physical activities, and record their progress on a password-protected personal Web log;
Inquiry-oriented demonstrations and facilitated activities (PowerScience) developed and led by educators graduate students and postdoctoral fellows;
A pre/post museum field experience Web resource containing six downloadable guided-inquiry lessons, professional development "virtual workshops," and opportunities to interact with other teachers who are using the lessons via facilitated discussion forums on the same site.

At Baylor the partnership will involve scientists clinicians educators and graduate students. The Houston Independent School District the Nation's seventh largest school district also will collaborate in evaluations of the exhibit and related classroom components, and in project dissemination.

Project evaluation will encompass:

Front-end assessments of project concepts and strategies;
Formative assessments that include prototyping of each exhibit component and field-testing of classroom activities and professional development sessions; and
summative assessments of immediate visitor responses to the exhibit and follow-up telephone interviews to achieve better understandings of impacts over time.

During its lifetime of at least 15 years the exhibit is anticipated to engage more than six million visitors.

Project Evaluation(s)

Evaluations will be conducted by Baylor's Center for Collaborative and Interactive Technologies (CCIT) staff. Evaluation of the exhibit and other supplemental programs will be conducted by Cecilia Garibay and the Children's Museum staff.

Front-end Evaluation
The focus of this phase has been to obtain information regarding children's understandings of the topics that will be addressed in PowerPlay. The project team conducted a literature review to determine what is already known about children's understandings of the PowerPlay topics which has informed a series of interviews in process that are examining how visitors interact with these concepts as they are presented in the context of the exhibit and programming.
Formative Evaluation
This phase is aimed at testing the usability and effectiveness of exhibit components and supplemental activities like BioEd Online and Informances. The project team will test exhibit and activity prototypes with visitors to determine how well visitors are able to interact with the component and what messages they are taking away from the experience.
Remedial Evaluation
The goal of remedial evaluation will be to determine how PowerPlay is working once it has been opened to the public. Methods will include tracking timing and observations of visitor interactions as well as exit interviews.
Summative Evaluation
This phase will assess the success with which each of PowerPlay's goals has been met. Specific areas of inquiry will include aspects as: 1) messages visitors take away from the exhibit; 2) ways in which the exhibit has helped visitors increase their awareness of their own health and the health-research process; 3) the extent to which visitors use home activities over time; and 4) ways in which the exhibition has influenced visitors' personal lives and lifestyle choices/behavior. Data collection during the summative phase will consist of pre-exhibit surveys and exit surveys to measure impact of PowerPlay on visitors. Post-visit follow-up phone interviews will be conducted twice; once a few weeks after families have visited PowerPlay and then several months later.

Resources for Sharing

In collaboration with CMH, educators with the Center for Educational Outreach at Baylor College of Medicine developed a companion teacher's guide of inquiry-based activities for the museum exhibit.

PowerPlay! Teacher's Guide

To download the teacher's guide and view videos of the exhibit, visit PowerPlay! on BioEd Online.

http://www.bioedonline.org/lessons-and-more/resource-collections/powerplay/

The lessons and resources can be used before and after your students visit the Children's Museum of Houston. If visiting museum is not feasible, the activities can be used in any classroom to explore health and fitness topics with students. Five activities are designed to be conducted prior to visiting the museum, and five after the museum visit.

Ideas for Teachers Without Access to the Museum

Plan a special field day at your school. Prior to the event, conduct the Pre-visit lessons. After the event, use the Post-visit lessons.
Create a classroom fitness plan that provides one month of activities. Help students plan a calendar with different fitness activities for each day.
Participate in the President's Challenge Program for fitness.
Project Audience
Children ages 5-12 their families and teachers
Subjects Addressed
Fitness, energy, balance, nutrition, data collection, clinical research