Middle School Life Science Education Partnership – Phase II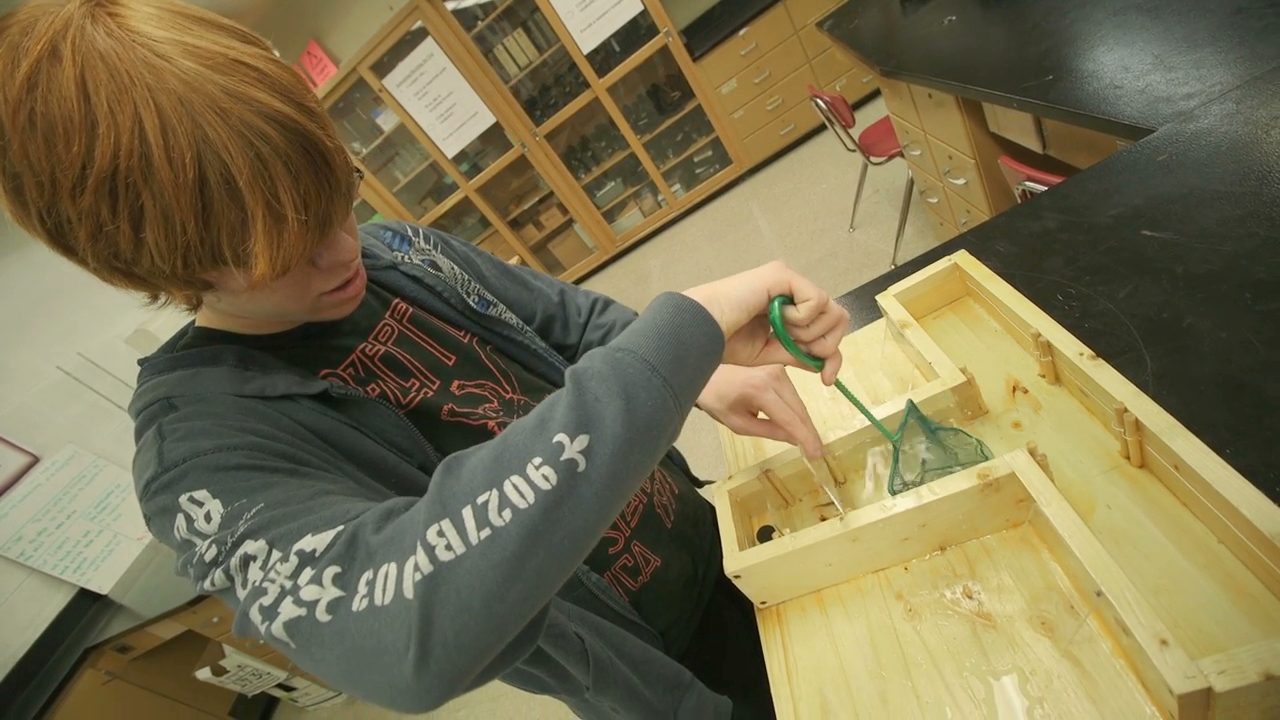 Project Description

Many middle school level teachers are marginally prepared to teach contemporary science the development of effective curricular materials has lagged and schools devote inadequate resources and support to science. In this context our program has received Phase I and II awards to address this issue with teacher professional development and in the classroom with students. Their objectives have been to provide innovative intense professional development for middle school science teachers based on an environmental health sciences theme and thereby to enhance inquiry-based learning in urban schools. The SEPA Phase I grant (2000–2004) focused on producing a suite of seven middle school life science experiment modules that emphasize hands-on learning with live organisms that link science concepts with important problems in human environmental health. Life science modules providing basic and environmental health science content:

"Embryology and Teratogenesis in Zebrafish (class room organism)" Michael Carvan and Henry Tomasiewicz (environmental agents: ethanol pesticides)
"Reproduction and Embryonic Development in the Frog" David Heathcote and Dr. Leslie Zettergren (ethanol pesticides)
"Chromosomes Genes and Traits in Zebrafish" Michael Carvan and Henry Tomasiewicz
"Understanding the Cell Cycle and Mitosis in Living Organisms (Frog)" Dr. Leslie Zettergren (UV radiation)
"Nervous System and Simple Neuromuscular Reflexes in the Earthworm" David Heathcote and DanielWeber (aldicarb)
"Integrated Animal Behavior in the Fathead Minnow" Daniel Weber (Pb and Hg)
"Circulatory System Blood Hemoglobin and Oxygen in the Perch" David Petering and Fred Binkowski director UW System Aquaculture Institute (nitrite)

The process was led by Dr. Petering and a College of Education professor, Dr. Randall Ryder. It involved initial conception of experiments by scientists discussion and trial use of outlines of the modules in classrooms conversion by master teachers into fully developed usable experiment modules further trial use by teachers with feedback finalization of the text and professional publishing. The comprehensive modules include background science and environmental health content video and graphics aids (zebrafish and frog development elaborate virtual experiments when safety in the classroom is a concern, etc.) complete description of the experiments for teachers and students and the instructional activities and supporting classroom materials to accomplish them.

Abstract

Pre-college science education, particularly middle school, where students first encounter courses dedicated to the sciences has lacked the attention of the scientific and education communities. As a result many middle level teachers are marginally prepared to teach contemporary science the development of effective curricular materials has lagged and schools have devoted inadequate resources and support to science.

In the prior Phase I grant experiment modules have been designed by scientists that address the core content of middle school life science. They utilize live aquatic organisms in the classroom to stimulate inquiry into the properties of living organisms and make connections with related environmental health problems to link student learning with the world around them. Human environmental health was chosen as the biomedical context because it strongly relates to the macroscopic world in which middle school students live; it also provides age-appropriate learning opportunities for students as they begin to understand organisms and their underlying structures and mechanisms.

During Phase II our specific objectives are to: Infuse middle school life science education with attractive experiment modules that stress student inquiry Mount a comprehensive dissemination program with school systems that work with large numbers of minorities and students from families with lower socioeconomic status Utilize a "train the trainer" method for lead teachers to achieve wide dissemination of the modules that involves close collaboration between scientists educators and the lead teachers Provide teachers with full support to implement and sustain the modules through a science resource center Continue the development of the content of the modules Obtain a thorough formative and summative evaluation of the effectiveness of the curriculum modules and the entire mechanism for their delivery Establish a robust program to sustain the module dissemination to teachers after the completion of the grant.

Dissemination Strategies

A. Summer Workshop. Teacher development began with an intense one-week summer workshop that covers two experiment modules during which teachers learn the relevant science and work in teams to do the experiments. This hands-on approach prepared teachers to implement the module in their own classrooms with the ongoing support of center scientists. The workshop includes basic and environmental health science content pedagogy evaluation strategy and extensive laboratory time. B. Yearlong Support. The program provides full support for module implementation in the classroom. The scientists and master teacher assist as necessary with technical and logistical support (purchasing provision of animals troubleshooting question-answering etc.) so that teachers are confident about introducing the modules to their students. C. Dissemination in the Greater Milwaukee Area, 2005–2008. During the past three years 54 middle school teachers from the metropolitan Milwaukee area including 36 from the Milwaukee Public School District attended weeklong workshop in June 2005–2007 to start a yearlong program during which they utilized two of three modules: "Reproduction and Embryonic Development in the Frog," "Integrated Animal Behavior in the Fathead Minnow Reproductive Behavior," and "Nervous System and Simple Neuromuscular Reflexes in the Earthworm," in their life science courses. Drs. Zettergren and Weber who generated the scientific content for these modules and Dr. Nazima Shahnoor provided the instruction. Dr. Petering presented an introduction to environmental health and Dr. Randall Ryder discussed the use of new tools for student evaluation. Teacher evaluation of the workshop was outstanding as summarized below. As they moved into the school year 26 of the 52 teachers from the workshops registered for a UW-Milwaukee tuition-free course with Dr. Ryder, focused on enhancing the science education pedagogy and classroom evaluation components. At present 10 other teachers have been recruited to implement the modules under the guidance of our cadre of teachers using a "train-the-trainer" model with classroom support as needed from scientists and our master teacher. A total of 3,000 students have carried out these modules during this period. D. Other Dissemination. Collaborations with other SEPA projects included:

Work during 2005-07 with the Walter Reed Army Institute of Research (WRAIR) SEPA Program in Silver Springs Maryland. In the program middle and high school students are provided instruction by undergraduate life and physical science majors in their senior year known as "near peer mentors."
UW-Milwaukee SEPA offered both our Zebrafish I module,  "Zebrafish Development and Embryology," and Zebrafish II module, "Chromosomes Genes and Traits in Zebrafish," as well as "Understanding the Cell Cycle and Mitosis in Living Organisms (Frog)" to WRAIR's summer SEPA program.
Presentation by Dr. Nazima Shahnoor of "Nervous System and Simple Neuromuscular Reflexes in the Earthworm" to 20 Houston, Texas, teachers in cooperation with an MD Anderson Cancer Center program, July 2007.
Attendance at June 2007 workshop of leaders of University of Montana/Salish College SEPA program to learn how the workshop was conducted.
Sponsorship of symposium at the National Society of Environmental Toxicology and Chemistry meeting November 2007 on "Environmental Health: From Lab Bench to Community and Classroom" (Daniel Weber organizer).
The "Integrated Animal Behavior in the Fathead Minnow" module was also the subject of part of the joint UW-Milwaukee-Harvard Nursing and Environmental Health Conference held in 2006.

Project Evaluation(s)

The program has been fully evaluated by Ms. Barbara Goldberg an independent evaluation specialist with over 25 years of experience in federal project evaluation. Through an analysis of program records and multiple quantitative and qualitative evaluation tools the evaluation seeks to answer both formative and summative questions. Outcome questions focus on the impact of the program model on: Teacher interest and awareness of scientific research and their capacity to teach scientific topics in a middle school setting Student interest in and awareness of scientific research and careers their use of various cognitive strategies and their levels of understanding Evidence of institutional change and sustainability including professional development of other teachers dissemination of the scientific modules in area school systems and changes with regard to resources and curriculum As with the program content the evaluation methods are diverse and intensive including written surveys completed by teachers at the end of each summer workshop and at the end of the implementation of the module in the classroom student report cards (i.e. a checklist format and written comments regarding their reaction to each module) observations pre- and post-tests and work samples. Evaluation methods have evolved in order to capture the depth and richness of the program content. In 2007-08 the evaluation incorporates a comparison group in the evaluation design utilizing comparable middle school science classes in non-participating schools as well as pre- and post-evaluation in classes that are taught these modules.
Students at 31 high schools across the State of Wisconsin examine zebrafish to determine effects of environmental agents, like nicotine and ethanol, on animal development and health.
Project Audience
Middle school life science teachers and their students
Subjects Addressed
Life science, environment, health, environmental toxicology, chemistry, genetics, molecular biology, developmental biology, aquatic life, propagation and breeding, animal care, laboratory methods, science pedagogy, curriculum
Associated SEPA Project(s)