SERIOUS STEM GAMES SBIR – STTR Grant Writing Workshop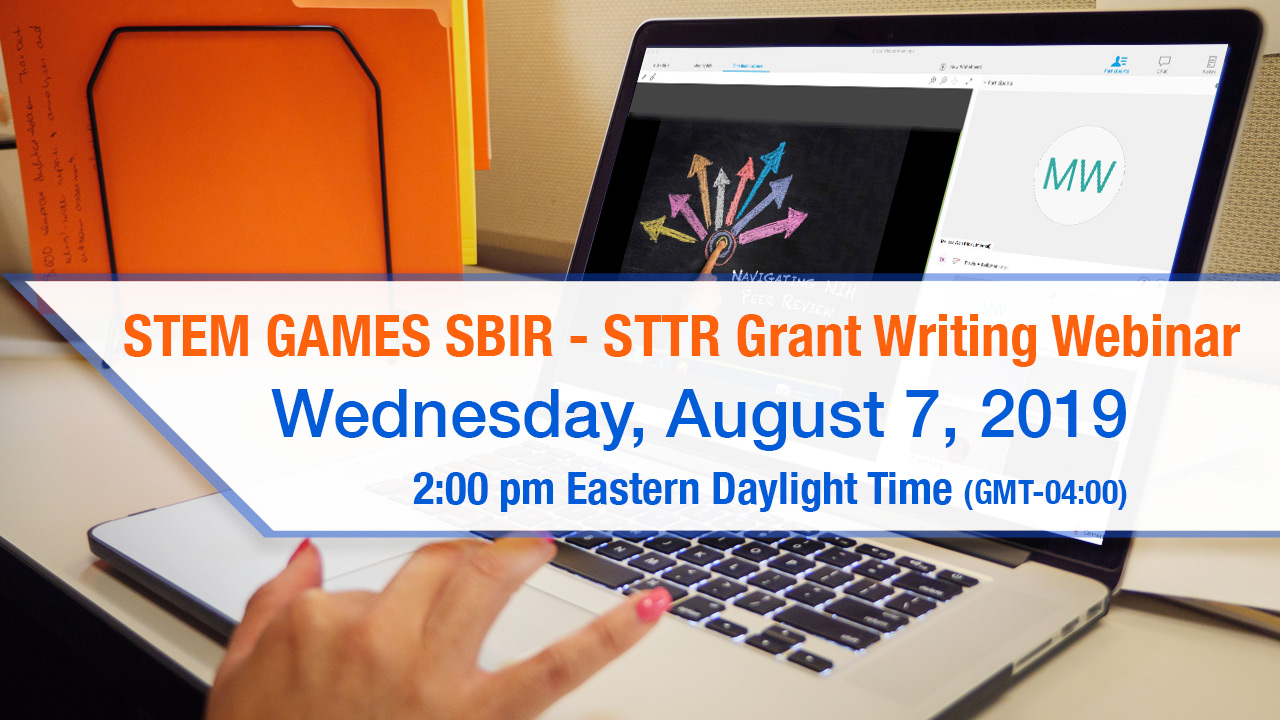 NIH SBIR & STTR Funding for Science, Technology, Engineering, and Mathematics (STEM) Interactive Digital Media (IDM) Resources
The National Institute of General Medical Sciences (NIGMS) at the NIH provides Small Business Innovation Research (SBIR) and Small Business Technology Transfer (STTR) funding for the development of IDM-based science, technology, engineering and mathematics (STEM) resources for students, teachers and the community.  Project focus must be related to topical areas of NIH-funded health and medicine research.  The next grant proposal receipt date for solicitation PAR-18-402 (SBIR) and PAR-18-403 (STTR) is 5:00 p.m. local time on Friday, September 5, 2019
A Webinar on the goals of the SBIR/STTR STEM Games program, Gold Standards for grant applications and a look at the NIH peer review process will be conducted by scientific staff from the NIGMS and the Center for Scientific Review (CSR).  Webinar will close with a question-and-answer session.
Meeting Information:
The National Institute of General Medical Sciences invites you to join this Webex meeting.
SERIOUS STEM GAMES SBIR – STTR Grant Writing Workshop
Wednesday, August 7, 2019
2:00 pm | Eastern Daylight Time (New York, GMT-04:00) | 1 hr 30 mins
Meeting number (access code): 290 983 602
Meeting password: nigms
Join by phone
Tap to call in from a mobile device (attendees only)
1-650-479-3208 Call-in toll number (US/Canada)
Join using Microsoft Lync or Microsoft Skype for Business
Dial 290983602.nih@lync.webex.com
Join from a video system or application
Dial 290983602@nih.webex.com
You can also dial 173.243.2.68 and enter your meeting number.
IMPORTANT NOTICE: Please note that this Webex service allows audio and other information sent during the session to be recorded, which may be discoverable in a legal matter. By joining this session, you automatically consent to such recordings. If you do not consent to being recorded, discuss your concerns with the host or do not join the session.
---