NIH Workshop on the Changing Human Subjects Guidelines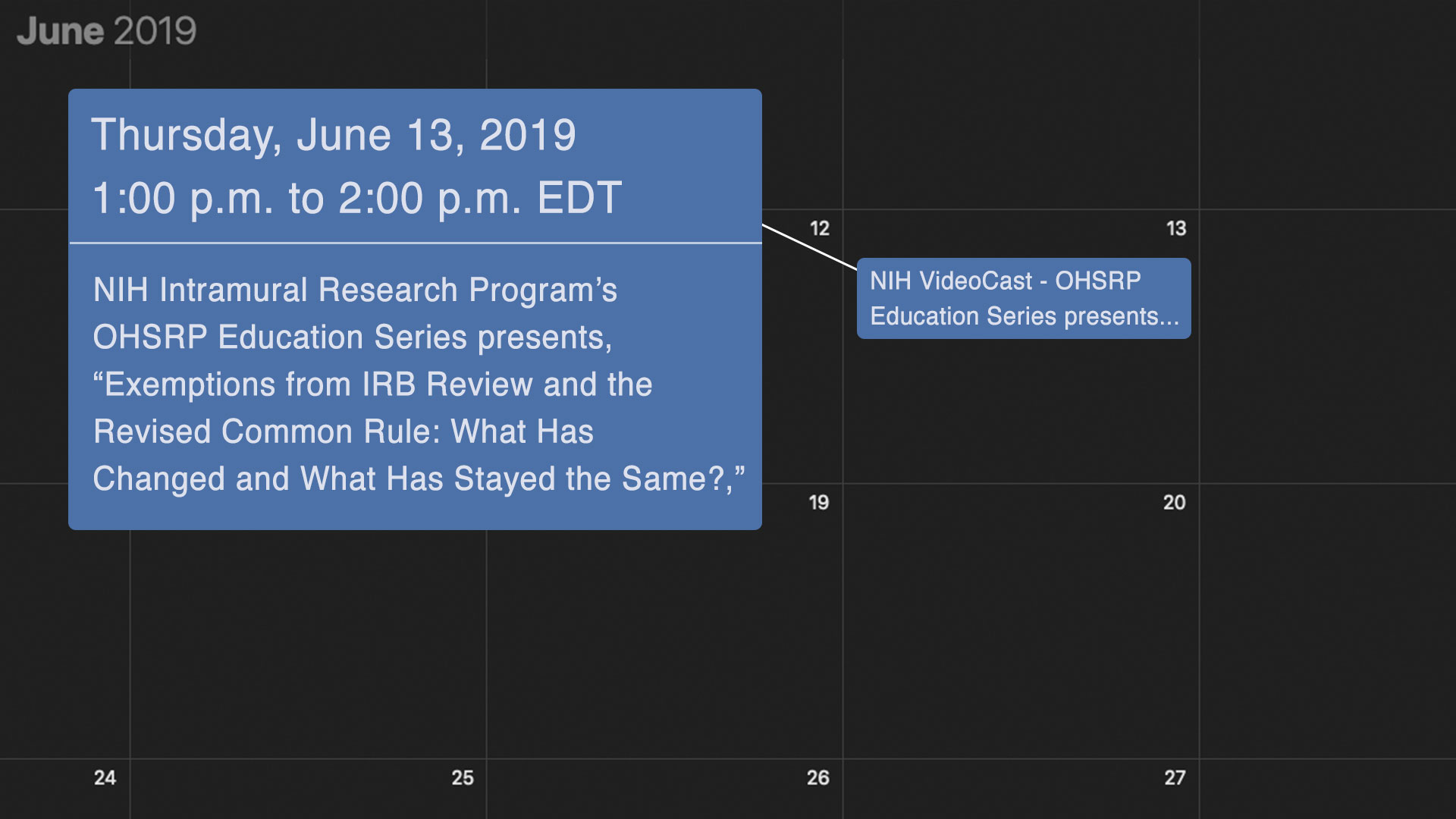 The NIH Intramural Research Program's OHSRP Education Series presents, "Exemptions from IRB Review and the Revised Common Rule: What Has Changed and What Has Stayed the Same?," on Thursday, June 13, 2019, 1:00 p.m. to 2:00 p.m. EDT in Lipsett Auditorium.
VideoCast Link https://videocast.nih.gov/
The presentation will cover 1) the meaning of concept "exempt human subjects research"; 2) the eight exempt human subjects research categories that are allowed under the "Common Rule" in the HHS human research subjects protections regulations; 3) an overview of the changes to these categories under the revised "Common Rule"; and 4) the new submission process for requests for exemptions. For example, one important change involves Exemption Category 2. This category involves the use of educational tests, surveys, interviews, focus groups, or observation of public behavior. As long as the researcher builds certain protections into their research plan he or she may now collect and maintain identifiable, sensitive data and obtain an exemption from the regular IRB review and approval process. Another change that might be relevant to NIH researchers is the inclusion of a new exemption category (now Exemption Category 3). This category covers research in which the focus is a "benign behavioral intervention".
At the end of this session, participants should:
• Be able to describe the primary difference between exempt human subjects research and "not human subjects research";
• Understand what types of research activities might be eligible for exemption from IRB review;
• Have a better understanding of the changes to the exemption categories and associated requirements under the revised "Common Rule";
• Be able to identify whether an exemption category might be applicable to one's own research;
• Know the general process and materials required for submitting for an exemption from IRB review
This session is open to the NIH community and advanced registration is not required. This session will be videocast in real time (https://videocast.nih.gov/) and posted to the videocast archives web site: https://videocast.nih.gov/PastEvents.asp
The following recent OHSRP Education Series seminars are available on the videocast archives web site.
20 May 2019: OHSRP Education Series: Research-Related Event Reporting Updates
3 April 2019: OHSRP Education Series: Important Changes to Informed Consent
18 March 2019: OHSRP Education Series: When IRB Approval Is Necessary and How to Complete the New Investigator Attestation for Tech Transfer Agreements
Individuals with disabilities who need Sign Language Interpreters and/or reasonable accommodation to participate in this event should contact Peg Herbst Sanders, margaret.sanders@nih.gov, 301-402-3444, and/or the Federal Relay Service at 800-877-8339. Requests should be made five days in advance of the event.
---