Genetics: Creating High School Teacher Stakeholders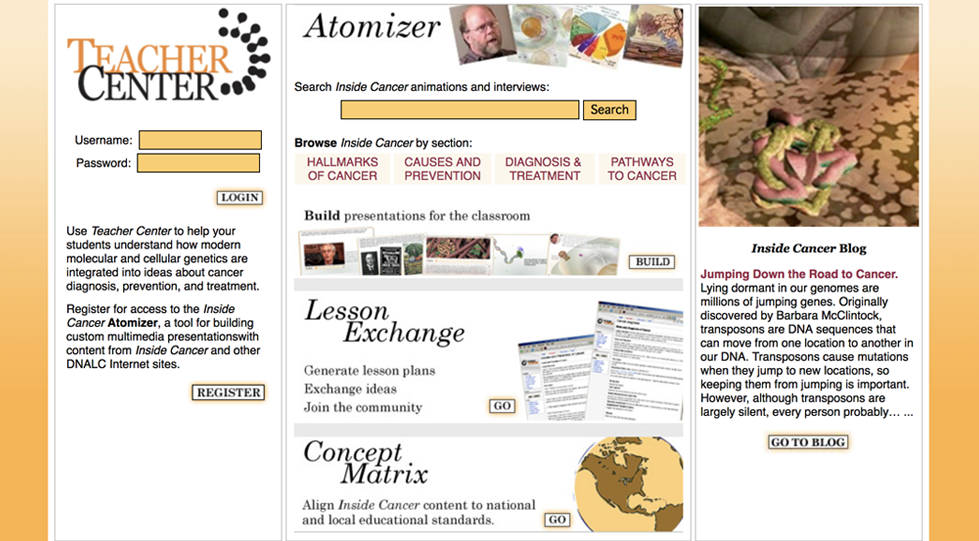 Learn More
https://nihsepa.org/project/nationwide-dissemination-of-inside-cancer-a-sepa-funded-internet-site-for-teachers/
The Teacher Center Website is an expansion of the Inside Cancer project. An online educator resource, the website is but one part of a six-part dissemination strategy for teaching the genetics of cancer. The site allows high school science and health teachers to develop new or build upon and share custom curricular materials for use in their classroom.
Atomizer
Search and Browse Content; Build and Share Presentations
The content from Inside Cancer has been "atomized." Each animation and interview has been separated into standalone "atoms." Teachers can search for atoms by keyword, or simply browse the Inside Cancer categories. Atoms can also be used to build a new presentation that can be accessed via a unique web address (URL). The site offers a searchable interface of more than 3,000 multimedia content "atoms."
Lesson Exchange
Join the Community; Develop and Share Lessons
The Inside Cancer's Teacher Center lets educators develop and share lessons that complement content on the Inside Cancer Website.
Concept Matrix
Align Content to Local and National Education Standards
The matrix cross-references Inside Cancer content atoms with educational standards.
Explore all six parts of the project's dissemination strategies on the project's Web page.
---