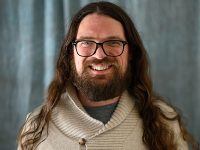 Department:
Department of Biology
Position(s):
Assistant Professor, Biological and Physical Sciences, CHPS
Current SEPA Project
---
Described as a jack-of-all-trades by his nominator, Matt Queen is a familiar face at MSU Billings and a professor who is dedicated to the university and the students who go here.
Known campus-wide, Queen has been involved in events such as the Atomic Circus at Montana Fair, Science Fun Day, and Girls-n- Science. Queen can be seen at orientation, the MSUB Mile, and campus star-gazing parties. He serves as the advisor for the Science Club and the Ski Club at MSU Billings. Queen's involvement in a variety of campus events and activities has helped organize informative, educational, and entertaining events for the community and current and potential students.
Working alongside students, Queen's expertise and skill in his field mingles with his sometimes funny and humorous approaches to teaching. His passion shows in the ways he helps his students learn. To help his students succeed, Queen helps them identify what kind of resources they need. He also works with a small cohort of international students to encourage them to stay at MSU Billings and helps draft a plan of study in order for them to be on track to graduate from the university. Additionally, Queen hosts international students and communicates with advising and the Office of International Studies when students need additional guidance or assistance.
Queen is known by many for his dedication to his students and spreading a love for science with current and future students as well as community members. "His commitment to the campus and his students is contagious," notes a colleague. "He's a well-rounded faculty member who strives to educate, excites students about education, and serves as an inspiring role model to students."
Associated SEPA Project(s)