Joan C. Griswold, MIT
Pronouns:
she/her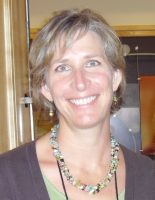 Department:
Genome Sciences
Current SEPA Project

---
I work at the University of Washington (Seattle) in the Department of Genome Sciences. The GEMNet team includes Dr. Atom Lesiak (Director of Genome Sciences Education Outreach) and Dr. Helene Starks (Internal Evaluator). We create and manage programs through Genome Sciences Education Outreach (GSEO). In August 2017, we received SEPA funding for Genes, the Environment, and Me: Health and STEM Network (GEMNet) which builds on prior funding. GEMNet is developing a cross-disciplinary approach for teaching and learning about type 2 diabetes in high school biology, health, and family and consumer sciences classes.
Past SEPA projects include Genes, the Environment and Me (GEM), which centered on the theme of type 2 diabetes and the use of C. elegans in the high school classroom to provide context for learning about gene-environment interactions. Prior to that, I was involved with Collaborations to Understand Research and Ethics (CURE) and Collaborations to Advance Understanding of Science and Ethics (CAUSE) through the Northwest Association for Biomedical Research (NWABR).
Associated SEPA Project(s)
Associated SEPA News