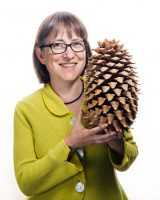 Department:
Exhibits
Position(s):
Research, Development & Advancement Manager
Current SEPA Project
---
Victoria Coats, exhibit R&D manager, has worked at the Oregon Museum of Science & Industry (OMSI) since animatronic dinosaurs first roamed through its exhibit halls. During her many years working on interactive science exhibitions, she learned to embrace the collaborative process and barely kicks and screams at all now. She loves bringing together diverse teams of smart, imaginative cooks (but not too many), stirring up a rich soup of ideas, and filtering out a clear broth of intuitive learning experiences. Her exhibition projects have focused on natural and life sciences, including human biology, natural history, traditional ecological knowledge, and environmental and climate literacy. A strong focus of her projects is collaboration on many levels—between project teams, museum partners, youth and expert advisors, community based organizations, learning researchers, scientists, and diverse audiences including Indigenous and Latino partners.
Associated SEPA Project(s)