Discover Health/Descubre la Salud: A Colorado Community Engagement Project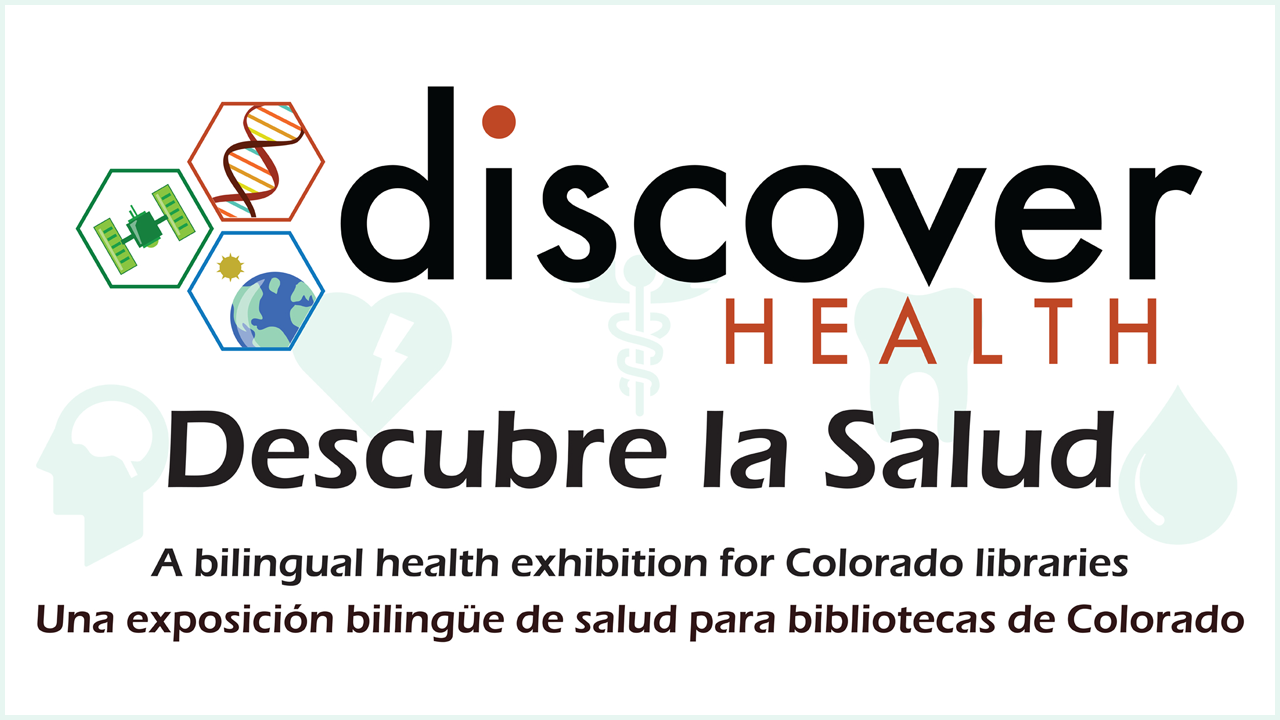 Project Audience
The project engages general public, including adults, students in grades 4-12, and families; the Latino general public, including adults, students and families; and librarians by using a strategic combination of interactive exhibits and activities in both English and Spanish presented at public libraries, community health festivals, and career events.
Subjects Addressed
Activities for K-12 students, adults and families; education about serious public health issues, especially diabetes, obesity, and cardiovascular health.
---
Dissemination Strategies
Library Exhibit: The traveling exhibit is about 800 sq. ft. in size. It will include suitcase-sized, table-top interactives, engaging anatomical models, compelling media pieces, computer-based interactives, and portable graphic panels.
Library Tour: The exhibit will tour 12 libraries in Colorado in Years 3-5 of the project. A core library in each of the six AHEC regions has been selected. See map. The remaining 6 libraries will be selected by December 2016.
A Strategic Media Plan: We will recruit significant media, health, and community partners to serve as integral partners in the project's overall "air and ground" strategy. The project plans to surround the general public with messages about how the body works and how to keep it healthy.
Programming Activities and Events: We are developing new active learning activities and re-propose existing informal education activities for host and non-host libraries in collaboration with health science education organizations. A variety of community events will be developed and implemented such as health fairs, career events, family nights, and a Frontiers of Health seminar series, to engage students, families, and adults.
---
Project Evaluation(s)
The project includes a comprehensive evaluation plan and a research component that explores how public libraries can serve as a STEM learning center in rural, underserved communities. STAR_Net has also created an online community of practice (CoP) that includes host and nonhost librarians and STEM professionals. Sharing common concerns, such as providing informal STEM learning opportunities, and learning from each other about how to improve outreach endeavors, are the hallmarks of a community of practice. To these ends, members of the STAR_Net CoP can meet online, share resources, and form partnerships around a common purpose.
An independent evaluation firm, Knight Williams Inc., will design the evaluation process and conduct the external evaluation for DH/DS. The firm specializes in the development and evaluation of large-scale health and science multimedia and outreach projects targeting diverse audiences. The firm has conducted numerous evaluations of projects reaching two underserved populations specifically targeted by DH/DS: rural and Spanish speaking audiences, including: Pulso del Planeta, SciGirls en Español, SciGirls en Familia, SciGirls Trunks, and Evidence. The evaluation team will draw on these experiences when directing the DH/DS evaluation to facilitate its running of an efficient and effective project evaluation. The evaluation process for DH/DS will include three phases of evaluation, as described below: front-end, formative, and summative. For each phase, the evaluation team will conduct procedures in English and Spanish, as appropriate, for participants residing in the diverse rural and Spanish speaking communities served by DH/DS.
Front-end evaluation
Early in the grant period, the evaluation team will coordinate and facilitate forums at three of the twelve DH/DS sites. The use of forums in the front-end evaluation phase will reflect the project's larger community engagement focus. During Year 1, the evaluation and project teams will collaborate to assemble approximately 20 local library staff and patrons, public health educators, and selected community representatives at each site to discuss, in a forum setting, the health issues targeted by DH/DS and consider how the project can most effectively address these issues with local audiences.
The forum process will provide an opportunity for participants to share resources and learn from one another about how best to engage the public in STEM learning experiences in their local library and community settings. Key issues that will be considered in the forum context are: the receptivity of librarians and library patrons to STEM education in the library setting; the ways in which library professionals perceive their role as providers of STEM education; how librarians, local educators and other stakeholders see themselves best collaborating with partners during the project; and the factors that these groups perceive will most likely facilitate and hinder effective DH/DS implementations. The forum process will also ensure that the participants themselves have an opportunity to raise issues that are salient to their communities.
Formative Evaluation
The formative evaluation will seek audience input on developing versions of the DH/DS components, and will occur in two phases during Years 1-2 of the project. The focus for each year is briefly summarized below, followed by the procedure that will be used in each case:
Year 1: Given the project's integral community development focus and the importance of doing in-person evaluation work with the targeted underserved audiences, the evaluation team will conduct in-person evaluations at two library sites during Year 1, one in a site with a significant Latino population and one in a rural area. The evaluation will seek patron feedback on the prototype concepts for the library and outreach exhibits and on the related DH/DS program components, such as the health fairs, career workshops, and science cafes.
Year 2: During year 2, as the deliverables are further refined, a 2nd round of formative evaluation will occur on individual DH/DS components. The exact mix of program deliverables to be evaluated will be determined closer to the evaluation period to ensure that the evaluation targets the components most in need of formative testing. Rather than conduct in-person evaluations as in Year 1, the evaluation team will train and arrange for local library/project staff at 4 sites to collect feedback from patrons in their libraries about the planned components to augment the evaluation team findings.
During both years, the evaluation will aim to seek feedback from approximately 30 youth and family patrons per site, which will generate audience feedback from approximately 60 patrons in Year 1 and 120 patrons in Year 2. Feedback will be gathered through a combination of survey, individual interview, and small focus group approaches, as determined appropriate for the evaluation questions that arise.
Summative Evaluation
The summative evaluation will determine how effective the DH/DS library exhibits and related community programs and resources are in engaging rural and Latino participants and what factors contribute to effective engagement and learning from these components. Sub-studies will be conducted separately for professional and public audiences.
Abstract
Overview
The University of Colorado's Area Health Education Centers (AHEC) Program Office, in collaboration with the STAR Library Education Network (STAR_Net), and CLACE present Discover Health/Descubre la Salud, a project funded by the National Institutes of Health Science Education Partnership Award. This traveling exhibition addresses the nation's most serious public health issues, especially among underserved and rural populations (diabetes, obesity, and cardiovascular health). It also encourages youth, especially those from at-risk communities to pursue careers in health care professions. The project engages students, families, and adults by using a strategic combination of interactive exhibits and activities in both English and Spanish presented at public libraries, community health festivals, and career events.
The Discover Health/Descubre la Salud project is developing an interactive traveling exhibit hosted by 12 Colorado libraries coupled with a variety of education and outreach programs. This additional programming includes hands-on activities, a training program for librarians, and an online learning community (www.starnetlibraries.org) of librarians and STEM professionals (currently, over 1600 members).
Project Goals
Goal 1: Increase Latino and rural adult and family public library patrons' interest in, knowledge of, and engagement with health science topics relating to their bodies and how to keep them healthy. The focus will be on preventing diabetes, obesity, and cardiovascular disease.
Goal 2: Increase Latino and rural adult and family public library patrons' participation in STEM activities at their local libraries.
Goal 3: Build the capacity of libraries and library staff in Colorado to deliver inspiring and effective health science learning experiences for their local Latino and rural communities.
Goal 4: Increase the interest and capacity of libraries to collaborate with a variety of health science professionals and educators (in Colorado and beyond) to establish effective, on-going health education programs.
Goal 5: Promote opportunities and best practices for partnership building by leveraging resources and connections on the STAR_Net online learning community website.
Goal 6: Build a deeper understanding of how public libraries can develop and conduct effective STEM programs to underserved populations through project documentation and evaluation
---
Resources for Sharing
Training Program: Conduct online and in-person workshops (for host exhibit library staff and library attendees at the annual Colorado Library Association conference) to prepare library staff to host the exhibits, implement programming ideas, and become integrated into the STAR_Net online community. Conduct a series of webinars about the project for libraries nationwide.
Professional Learning Community: Expand the scope and reach of the STAR_Net online learning community to include health education topics and programs.
Associated SEPA Publication(s)